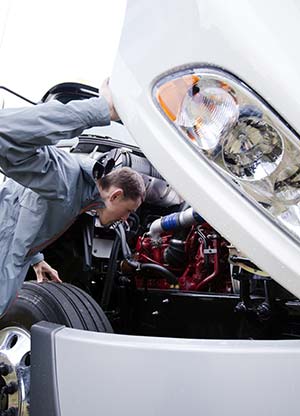 Unexpected and unforeseen issues can erupt at any time on the road. From something as simple as running out of fuel to locking yourself out of your cabin, to a situation as complex as a brake malfunction or an ignition issue, it's important to have a trusted source for semi-truck roadside assistance in Naples, FL when problems arise.
At Absolute Road Service, Inc., we make it our mission to provide truckers with the peace of mind they need when traveling through Naples, FL and the surrounding areas. If you encounter an issue that leaves your semi-truck unable to get back on the road, know that we're standing by to offer 24-hour semi-truck repair in Naples, FL.
We're here to provide our customers with the high level of service they deserve, no matter when you might find yourself on the side of the road. Customers call us first because they know they're going to get best-in-class semi-truck roadside assistance services that include:
24-hour semi-truck repair;
24/7 on-call emergency service;
Emergency brake down service;
Lockout service.
Our team understands that semi-truck issues can be complex, and that in order to meet deadlines and stay on pace to make your delivery, you need reliable service, fast. Rest assured that when we arrive on-site, we come with the resources and abilities to offer you reliable repairs.
Know that you can always call us for assistance, day or night. Our team will work quickly to get to your location, to provide you with expert services that are designed to get you safely back behind the wheel of your vehicle and back on the road to your destination.
For more information about how we can assist you with semi-truck roadside assistance in Naples, North Naples, Golden Gate, Collier County, and Lely, FL, please contact us today by calling 239-919-6719. We offer mobile RV repair, semi-trailer repair, 24-hour semi-truck repair, and roadside assistance!