Commercial Truck Repair in Naples, FL
Since 2009, Absolute Road Service, Inc. has been the premier provider of 24-hour roadside services for commercial semi-trucks and fifth-wheel vehicles in Naples, North Naples, Golden Gate, Collier County, and Lely, FL and the surrounding 100-mile areas. Our friendly and professional fleet, semi, and box truck repair staff works hard to provide you with quality services at reasonable prices, in a timely manner to get you back on the road swiftly and safely.
Reliable Box Truck, Semi-Truck, & Fleet Truck Repair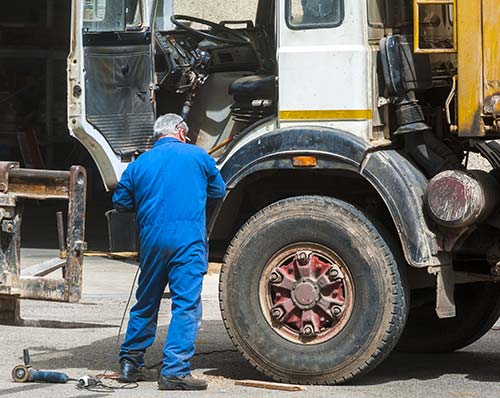 When you're out on the road and experience an issue that leaves your semi-truck sidelined, it's critical to have a reliable resource for mobile semi-truck repair in Naples, FL. Absolute Road Service, Inc. is just one call away, ready to come to you and provide the roadside services you need to get back on route to your destination once again. From brakes and tires to electrical and air systems, and just about anything else that might go wrong, our experts have years of professional experience in delivering the restorative fixes you need. Moreover, we have experience in all facets of mobile RV repair, bus repair, truck repair, and more in Naples, FL, no matter what type of rig you're driving around in!
Customers trust us as their go-to mobile semi-truck services in Naples, FL because of our rapid response times and the proficiency of the experts we employ. We arrive on-site fast, ready to assess the full scope of the problem and provide you with the specific commercial truck repairs you need. We even have digital diagnostic tools to make sure the work we're doing is correct from the start. We want to see you get back behind the wheel safely and back on track to your destination quickly. Take a look at just a few more reasons we're a foremost resource for mobile semi-trailer repair services:
All of our services are offered 24/7 for your convenience and peace of mind.
We're a family-owned trailer, fleet, and box truck repair business with more than 20 years of professional experience behind us.
We predominantly service commercial semi-trucks, including 26 and 28ft box trucks.
Our services are available to customers within 100 miles of our location in Naples, FL.
We're always happy to offer free estimates on our services to prospective customers.
Get Immediate Service
If you're sitting on the side of the road with a semi-truck that isn't able to be driven, give us a call right away! As the premier provider of mobile commercial truck repair services, we're ready to help you get it working again.
Areas Served
We offer our box truck and fleet truck repair services within 100 miles of Naples, FL, including:
North Naples, FL
Ft. Myers, FL
North Ft. Myers, FL
Ft. Charlotte, FL
Marco Island, FL
Cape Coral, FL
Everglades City, FL
Bonita Springs, FL
Collier County, FL
Lee County, FL
Hendry County, FL
Broward County, FL